Anna Maria Papini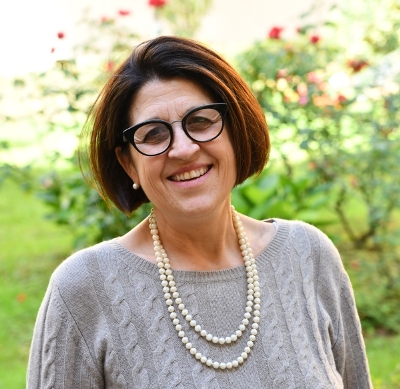 Short Biography:
Full Professor of Bioorganic Chemistry and director of the Interdepartmental Research Unit of Peptide & Protein Chemistry & Biology. After completing an International PhD in 1990 (supervisor Prof. L. Moroder, Max Planck Institute for Biochemistry), in 1991 she founded the first Laboratory of peptide chemistry, starting peptide-based translational research at the University of Florence.
As Laureate of the French "ANR Chaire d'Excellence" (2009-2014), she launched the platform PeptLab@UCP introducing peptide chemistry at CY Cergy Paris Université that since 2019 has a large scale KgLab facility.
She is the recipient of the 2008 Zervas Award, 1st Theodoropoulos Memorial Award, and since 2019 of the Rita Levi Montalcini Prize for binational cooperation between Italy and Israel to study the role of glycopeptide bacterial antigens in immune-mediated diseases.
In 2003 she founded EspiKem (1st spin-off of the University of Florence), the start-up Toscana Biomarkers (2007-2014) for R&D of peptide-based diagnostics of autoimmune diseases obtaining the 2009 Frost & Sullivan Excellence in Research Award in the European autoimmune disease diagnostics market. She has developed with Paolo Rovero the cosmeceutical active peptide-based cream KP1, recently launched on the market by the startup Apotech.
She was member of the European Peptide Society Executive Committee acting as Treasurer (2011-2020) and she was elected councilor of the American Peptide Society (2019-2025).
She will co-chair with Paolo Rovero 14th International Peptide Symposium/37European Peptide Symposium (Firenze, Italy, August 2024).
She is coauthor of 269 peer-reviewed articles and 11 filed patents.
She has been invited to present 128 lectures in International Symposia, Universities and Research Centers (28 lectures were aimed to technology transfer activities in the global space of R&D). 61 oral & 251 poster communications were selected for presentations in international symposia.
Address:
University of Florence,
Department of Chemistry "Ugo Schiff",
via della Lastruccia 13, 50019 Sesto Fiorentino (Firenze)
Contacts:
T. +39 055 457 3561
email: annamaria.papini@unifi.it